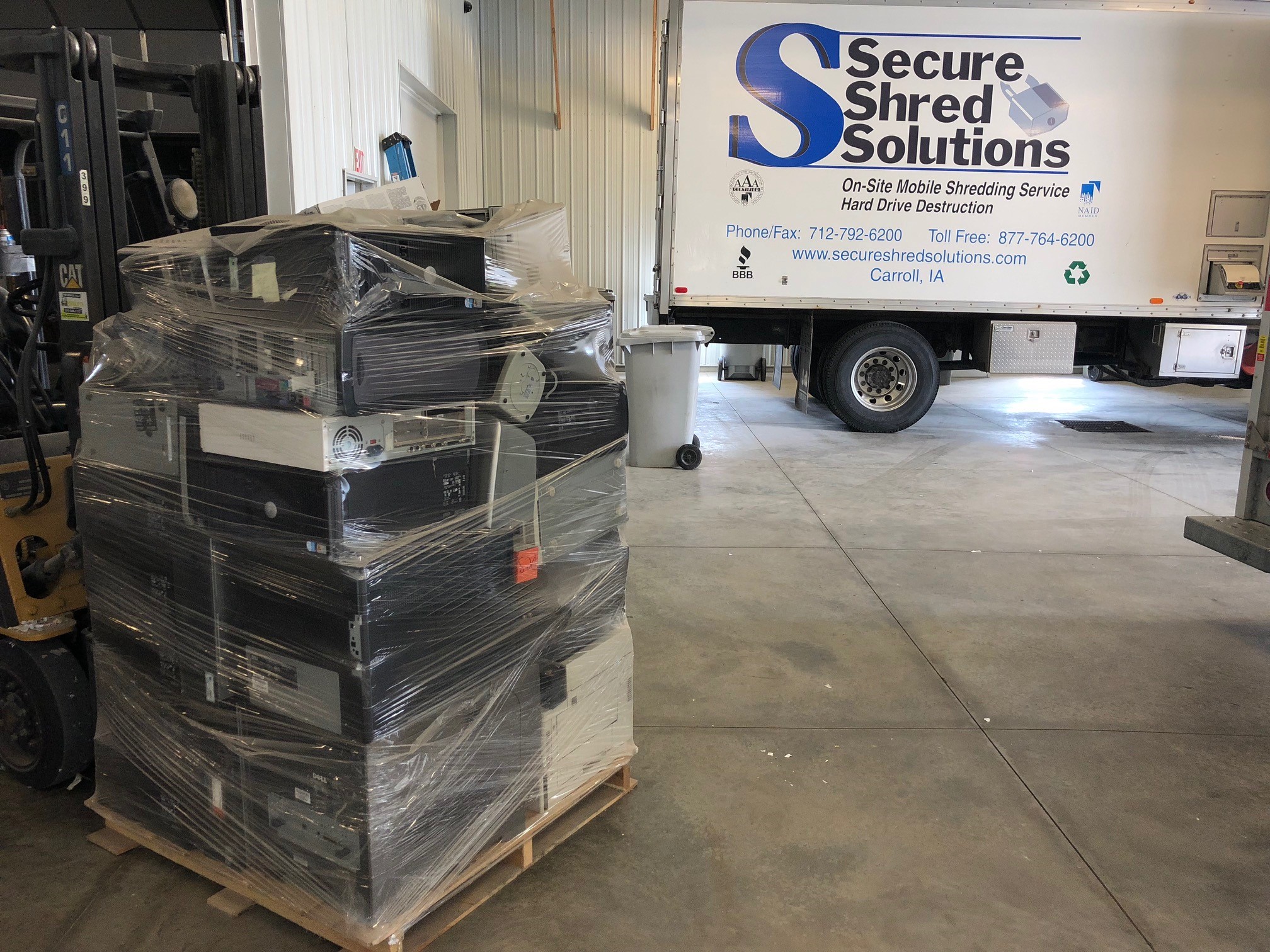 It can be hard to know what to do with equipment you no longer need at your office, especially if your company is looking for ways to be more environmentally friendly. Electronic office devices contain a variety of materials, including metals that can be hazardous but also can be recovered for recycling. In addition, items with sensitive data need proper destruction. At Secure Shred Solutions, we offer full-service, electronic waste disposal for office equipment all throughout Iowa.
Why Recycle With Us?
When you choose us to dispose electronic waste, you never have to worry about sensitive information being compromised. We'll remove the hard drive from computers and shred them. We take your privacy seriously and we properly dispose of sensitive information to maintain complete confidentiality and compliance.
Recycle Any Office Equipment With Us
As part of our commitment to making recycling as easy as possible for our customers, we provide service for virtually every item you have in your office. Our BBB-accredited business can recycle:
Computer Monitors (LCD and CRT)
Laptops
Networking Equipment (Routers, Modems, etc.)
Battery Backup
Printers (Inkjet, Medium and Large Laser)
Ink Toner Cartridges
Fax Machines/Scanners
Servers (Small and Large)
Typewriters
Video Cameras
Coin Counters
Credit Card Scanners
Memory Modules
Thumb Drives
Find Out More About Our Iowa Office Equipment Recycling Today
If you're ready to learn more about what the experienced recycling professionals at Secure Shred Solutions can do for your business, reach out to us. We'd love to tell you more about our convenient, cost-effective, and confidential services, so give us a call to speak with a helpful representative. You can also take a moment to complete our quote form to request your free estimate.