As a Secure Shred Solutions customer, from corporate to small business, you'll receive FREE use of our containers. These containers are safe, reliable, discreet, secure and durable. Containers stay locked, but you will be provided a key for document retrieval purposes.
Container Sizes
Slim Boy Console: Capacity of approximately 100 lbs. 36" x 22 3/4" x 15 3/4" Slim Boy container
65 Gallon Bin: Capacity of approximately 200 lbs. 40 1/4" x 23 1/4" x 29 1/2" 65 gallon container
95 Gallon Bin: Capacity of approximately 300 lbs. 46" x 26 1/2" x 34" 95 gallon container
Click HERE to have a container delivered to your home or business!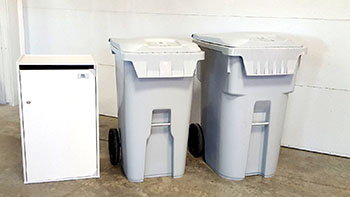 Desk Side Shredding Container
Besides free use of our larger shredding containers, we have available for purchase a smaller desk side shredding container. (Dimensions: 18"x12"x13") Please contact us for pricing. (Volume pricing available)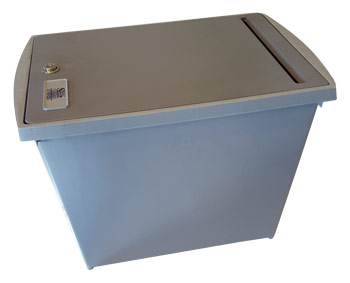 At Secure Shred Solutions, we will make the process as easy and quick as possible. Contact us to learn more!